Thursday 5th May 2016 and it's the first round of the Irish Amateur Championship in The Royal Dublin Golf Club.  I'm caddy for one of my students, Gavin Fitzmaurice.  Gavin is in the event based on his performance in The West of Ireland where he reached the quarter finals.
We have some experience at this level having competed with the elites for the past 2 years.  Everyone here can play, everyone has expectations but only one person can win.
We arrive at 9.00am and start on our pre-game warm up.  We start with some chipping, a couple of 'hellos' to and from other players.  We're nice and relaxed.  On to the range for full swing, start with the wedges, on to 9, 7 and 5 irons.  8 practice shots with the 3 wood and finish off with 6 drives. We bump into a friend who is second on the reserve list but it's not looking good for him, no one withdraws from The Am on tournament day.  Putting to finish, green is a nice pace, a bit quicker than in practice but we like today's pace.
10 minutes to our tee time and we make our way to the first tee.  Along the way we check on the wind direction, the tee box is surrounded by buildings and it can be difficult to assess on the tee.
We're out at 10.50am and playing alongside Dwayne Mallon from Northern Ireland and David Ramsey from Wales.  Two nice guys and good golfers, as you would expect.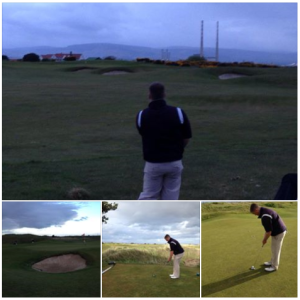 Wind behind on the first, good drive to start us and we're off.  We eagle the second to get to 2 under par, great start.  We have chances on 3, 4 & 5 but fail to convert, we'll stay patient and we'll get our reward, I'm sure of it.  On 6 we have a 10 foot putt for birdie, up hill and slightly off the right, time to start moving.  Gav hits a good put but it doesn't break as much as we thought, a handy 2.5 foot put back but he misses and we're back to 1 under.
A poor shot into the par 3 seventh and we make another bogey, time to regroup and hit some good shots.  The 8 is a good par 4, plenty of room off the tee but the green is elevated and tricky.   We're in the middle of the fairway with our drive, 132m left to the flag.  We hit a good shot but the wind is stronger than we think and we only make the front edge of the green.  We're left with 40 foot off the side of a cliff, another 3 putt and we're suddenly over par.
The ninth is a good par 3, we have 171m to the flag, the wind is helping a little and slightly off the left.  We select a 9 iron as this will only make the middle of the green and leave an easy 2 putt up the hill or maybe even make one.  Gav goes through his routine and strikes it beautifully, we're hopeful.  To our disbelief, the ball lands at the back of the green and bounces through.
We're looking down the barrel of a gun now, possible 4th bogey in a row, it's time for the caddy to earn his money.  As we walk to the green, I slow Gav down, we have a chat about how golf isn't always fair, but great players accept that and focus on the task at hand.  We agree we won't pay any attention to what's gone and focus on the next shot.  Gav selects his 60 degree wedge and plays the most delightful chip shot, in the middle of the hole for a birdie 2.  Level par for the front 9 and we're back in the right frame of mind.
Just as things are looking up, a GUI official calls the three players over and announces that we are 12 minutes behind schedule and are now on the clock.  I feel for the group behind because they have lost a hole to us, they must be in real trouble.
We walk to the 10th tee and continue with our round.  Pars on 10, 11 and 13 keep us moving nicely.  A poor approach to 12 costs us a shot, but that's okay for now, the wind is kicking up and mistakes can happen.  On the par 5 14th, Gav hits a good drive, it drifts a little right but it's okay 2 yards off the fairway.  When we get to the ball, we discover it's not okay.  This is a par 5 we can reach, but not out of this lie.  We have 180m to the bunkers and 208m to the water, we decide to layup with a punched 6 iron, it can't reach either.  A good swing, a flyer and we're getting worried, we've made the water at 208m, that can't be!!
More work for the caddy.  We chat about how good and bad luck happen and we need to concentrate on our job and let others bemoan their bad fortune.  Gav likes 65m wedge shots, his perfect number.  We measure it out, take our drop and Gav knocks it to 3 feet, par saved, let's head for 15th.  Another par and we've put our troubles behind us.  A good tee shot on the short par 4 16th sets up another birdie and we're back to par.
Now comes the finishing holes in The Royal Dublin Golf Club, real championship holes.  A good drive off 17 puts us in position but a pulled second shot and we've made bogey.  18 is playing a beast.  Gav hits a good drive up the left but still has 220m into the wind to the green, and as is the way in 'Royaler', he has to fly it over 'the garden' (the local name for the ground between the practice area and the 18th hole which happens to be out of bounds).  We pick the left hand green side bunker as our line, the wind is a hair off the left and the ground breaks to the right from there.  Gav hits it perfectly, it starts on the middle of the bunker and somehow stays there, a terrific shot that doesn't get its just rewards.
Another bogey ensues and we finish 2 over par, disappointing but not fatal.  The day ends with Jack Hume leading on 5 under par and we sit in joint 45th.  Tomorrow we're out at 7.00am so it's a 5.00am alarm call and we'll do it all again.